A Cheeky Twist to Your Work Christmas Parties
Thursday, October 5, 2023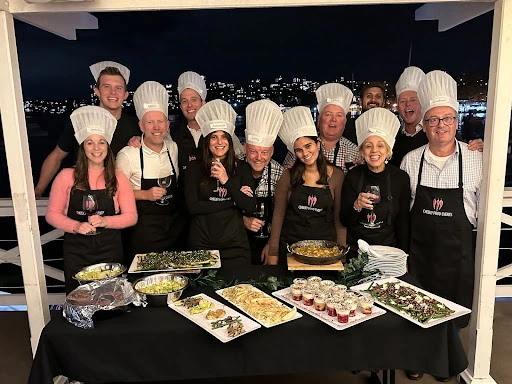 The festive season is drawing near, and companies across Australia are buzzing with the challenge of finding the perfect team-building event. Gone are the days of settling for the monotonous Christmas 'do'. This year, step out of the ordinary with Cheeky Food Events!
The Ultimate Cheeky Experience for Your Team
Cheeky Food Events promises an experience like no other. We've orchestrated memories for over 100,000 team members across 3000+ events. Our commitment to perfection means we're always upping our game.
Why Cheeky is Your Perfect Festive Solution
Interactive and 100% Fun: Dive into a culinary journey, where cooking is not just about the dish but team-building and creating lasting memories.
Perfect for Everyone: From Sales Team Energisers for that end-of-year boost, to expansive gatherings, we have the expertise and experience to cater to all. Hosting a larger group? We specialize in events regardless of whether it's a group of 100 or a grand 1000.
Exclusive Festive Offers: Give us a call and avail the option of a FREE MASTER CHEF CHALLENGE or the heartwarming Hampers for the Homeless. Perfect for adding that extra touch of festivity and warmth to your Christmas party!
Diverse Experiences: Try something unique like the Cheeky Olive experience, where you cook with bush tucker under the guidance of our indigenous chef, Mark Olive.
Hassle-Free Planning: Our seasoned team ensures you don't have to sweat the details. From understanding your vision to feedback post-event, we take care of it all.
Wherever you are, we can make it happen!
Our events are totally portable and we travel to many hotels and function centres across Australia, New Zealand and the Pacific. We frequently hold small and large events in Melbourne, Yarra Valley, Gold Coast, Sunshine Coast, Cairns, Blue Mountains and the Hunter Valley! And most often in conference rooms, marquees and even ballrooms!
No location is too remote or too exotic for us, as long as we have access to power and water we can set up a kitchen anywhere – including parks and beaches, we have even hosted an event for 150 people on Hayman Island and beach-side at the Sofitel Fiji!
Your Event, Your Choice, Our Execution
Bespoke Planning: We converse, comprehend, and craft the perfect event proposal tailored to your needs.
Unparalleled Execution: From venue bookings to day-of logistics, our team ensures perfection.
The Festive Ambiance: With lively PARTY MUSIC, FAB FOOD tailored for all dietary needs, and the provision of APRONS & Chef Hats, every detail is meticulously planned.
With Cheeky Food Events, you are promised not just an event but a memory that resonates with the festive spirit and camaraderie.
Slots for the festive season are filling fast. Click below and ensure your team has the Cheekiest Christmas Party they've ever experienced! Don't wait. Dive into our enquiry page, and remember, the more you share, the more exceptional your experience will be.